I think there are two things we're all pretty clear about. Considering that the AI that pretend to be human never goes well and tends to break the coherence of the game, the most credible enemies are the zombies and derivatives, while the best teammates are the perretes.
I love Secret of Evermore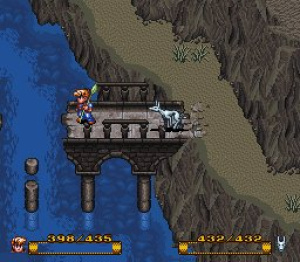 It seems to me a Japanese role-playing video game made in America very well written, wisely contained, funny, with a powerful BSO, a development with a great rhythm and with great details: the skeleton that goes with its boat through the desert, the market, alchemy and, above all, the dog.
There's something great about Secret Of Evermore and it's how it's built-in relationship of its parts. You need the powers that alchemy grants you to advance. This kind of magic depends on the materials you find exploring. You need wax and ash parts for this, bone and tar for the other… and you have to find it exploring, for what you need your dog that, with its smell, locates all these ingredients, inviting you to dig around every corner and overcome the little challenges that this leads to.
Secret Of Evermore uses your hairy partner to link combat, exploration, and narration
And he gets very fond of you because he attacks, protects you and sleeps peacefully beside you. It is so riquiño… also because it changes its appearance as you move through the invented worlds of Evermore. In essence, the dog plays a role that we believe was invented in The Witcher 3 or in the Batman Arkham series: the known detective mode; but in reality we already had with our colleague the ability that 'something' took us to the hot spots on stage.
The interesting thing about using a dog like that is that you detach the hero from this power. It's rare when Days Gone, RDR 2 or Horizon Zero Dawn changes the look of the stage, colors and particles are added to pretend that we're turning to some kind of sixth sense to locate a trace. Information is given to us in a way too absolute and without grace. However, at Secret Of Evermore we have to wait for the dog to find the trail and go after him little by little. As a living being, not a machine (at least, not always), sometimes he is wrong or thinks he has found something but then stops and prefers to scratch.
Following the teachings of this great role-playing game, I think it would be interesting to add a second partner; yes, a dog, more often in video games to replace this detective mode that already smells of rancid. And I hope you can stroke his little head, of course.